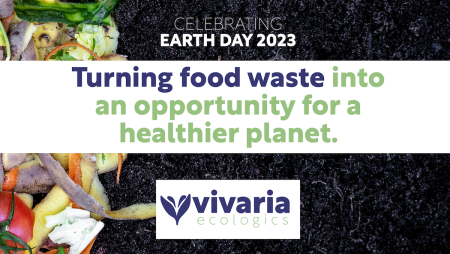 On Earth Day, we are encouraged to take the opportunity to celebrate our planet and everything that it provides for us. But as climate change becomes more of a present reality, it is important that we reflect upon the state of our Earth, and plan for action in the year ahead. One tangible way we can do this is to shift our perspectives on how we think about food waste.
In New Jersey alone, approximately 5.7 million tons of food waste goes to landfills per year (2020 NJDEP's 80x50 Report estimate). This is waste that would be biodegradable, but instead ends up within the rubble of unrecyclable plastics, foam, metals, and chemical substances. As a result, we miss the opportunity for food waste to transform into something that could be useful for the planet. Instead, it is placed in an environment that hinders decomposition nearly to a halt. And for every 100 pounds of food waste that ends up in these landfills, about 8.3 pounds of methane gas gets released into the atmosphere (Food Forward). 
It is no secret that methane is a powerful greenhouse gas that contributes profoundly to climate change. But luckily a solution to this problem exists — there just needs to be infrastructure to support it. That solution comes down to one word that most of us have heard tossed around: compost. By composting food waste, we give food waste the ability to return to the earth and provide nutrients, not harmful gasses. Compost provides a clean, soil-enhancing product for use in agricultural and landscaping environments. The food will break down and become a nutrient-dense soil amendment that can be used to grow more food, more plants, more trees that will produce oxygen — not methane. 
At Vivaria, our goal is to meet the needs of this problem by developing large-scale compost facilities throughout the state using aerated static pile technology. The consistent aeration system enhances composting conditions, allowing the process to move at a faster rate, while also limiting any odors or air emissions. Compost facilities provide a clean and non-intrusive solution to handling bulk food waste, allowing the food to return back to the earth as nutrients, not pollutants.